September 24 – 25
The Commodore's Cup will be held this Saturday and Sunday, starting at 11am.  This is our annual long-distance voyage down the St. Croix to the city of Prescott!  Cruisers are welcome to sail with us and join in the fun on Saturday evening.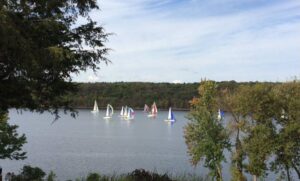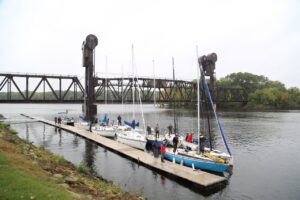 Saturday:
There will be two starts, with the Division 3 & 5 sequence beginning at 11am.
The sequence for Divisions 1 & 4 will begin around 11:20am.
If there are any significant changes due to weather, the Race Committee (R/C) will email everyone Friday evening, or by VHF starting at 10:00 Saturday morning.
Saturday Evening:
The Prescott City Council has reserved the city docks for us!  Your boats are permitted to stay at the city docks overnight.  The docks are between the highway bridge and the railroad trestle.  When you are ready to dock, call the "Prescott Highway Bridge" on VHF 14 (or 16) to request an opening of the Highway bridge ONLY.  Please buddy up with other sailboats so we don't need to open the bridge too many times.
We will have a post-race gathering on the docks (byo food, the last of the beercan beverages will be provided by the club).  Sailors are welcome to venture into town for dinner and partying.
Sunday:
There will be one sequence for all boats.  Warning signal will be at 11am, just north of the Prescott Highway Bridge.  We will race to Hudson, or wherever the R/C sets the finish line (if the race is slow).
Other notes:
On both days, the finish line may be shortened or the races cancelled if the winds and weather are unfavorable for racing.  The R/C intends to have everyone ashore by 5 or 6pm.
There may be several new crews, boats, and skippers attending the races this year – thank you for coming!  This is one of the most spectacular events our club has to offer.  Here are a few tips to make your adventure more enjoyable:
There are numerous shallow areas along the route. Take a look at this chart and note the shallow areas off of Afton, Black Bass Bar, Afton State Park, and the south side of the Kinnicknnic channel.
https://www.waterwayguide.com/explorer?latitude=44.84637637001192&longitude=-92.73988723754883&zoom=12
(choose the "Navionics" layer from the layers button at the lower-left)
All racers should familiarize themselves with the provisions of Section 11 of the Sailing Instructions
Should you elect to retire from racing on either day, ensure that you notify the R/C or have somebody notify the R/C on your behalf.  The R/C will be monitoring VHF Channel 72, or can be reached by phone.
If the winds are light, there might be some amount of motoring – make sure to top off your fuel tanks.