11th ANNUAL BAYFIELD CRUISE
AUGUST 19th – 22nd, 2021 – MARK YOUR CALENDARS
OK, a bit too early to book your boat, but not too early to make plans to attend, take the time off of work, etc.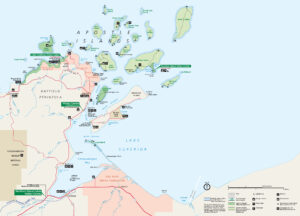 As usual, we will have a kick off dinner on Thursday, the 19th and then we shove off on Friday and return Sunday, but for those who can sail into Monday it'll be a bonus. Another bonus is it will be a full moon weekend.
Not much is open in Bayfield as I write this. But, I am sure the charter companies have their web sites up and running so you can view what they have available and maybe even book now. The early bird gets the worm.
It is a winter wonderland in the Islands now. The ice road was open for one day. But then the ice started shifting and so that was the end of the road……at least for now.
I'll have more info to come when pertinent. If you have any questions, contact Bill Hooper, or use the Contact Us form.
Carry on Mateys.